A New Frontier
Cancer therapies have improved dramatically over the last several years, due to the development and discovery of novel therapies resulting from the science and research conducted at AACI cancer centers. Among these are chimeric antigen receptor T-cell (CAR T) therapies. CAR T therapies represent a critical advancement in treating malignancies, and evidence shows these therapies provide important clinical benefits to patients.
In 2017, the Food and Drug Administration (FDA) approved tisagenlecleucel (Kymriah®) and axicabtagene ciloleucel (YESCARTA®) CAR T-cell therapies for the treatment of certain relapsed or refractory leukemias and lymphomas. More than half of AACI's member centers have been approved to provide these therapies. However, with these novel treatments come new challenges. To address barriers associated with administering the therapies, AACI formed the CAR T Initiative.
The initiative facilitates collaboration between subject matter experts at AACI's member centers through webinars, listserv discussions, calls, meetings, and other activities. The steering committee has also submitted comments to the Centers for Medicare & Medicaid Services (CMS) on their proposed national coverage analysis.
The CAR T Initiative Steering Committee helps guide and implement CAR T-cell therapy programs at AACI member centers across North America.

Chair
Joseph McGuirk, DO
The University of Kansas Cancer Center

View All Steering Committee Members
As part of the CAR T Initiative, topic-specific working groups have been formed to facilitate discussion on the challenges of administering these therapies as well as to develop and disseminate best practices and solutions.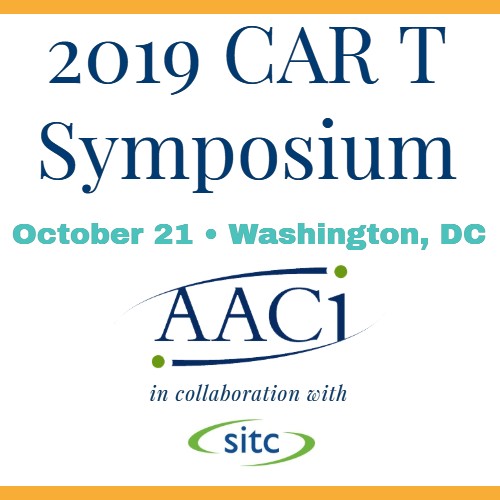 AACI, in collaboration with the
Society for Immunotherapy of Cancer
(SITC), will host an inaugural CAR T symposium from 2:00-5:00 pm eastern on Monday, October 21, at The Mayflower Hotel in Washington, DC.
The
2019 CAR T Symposium
aims to identify the key challenges to patient access and delivery of CAR T, and to discuss potential solutions to address barriers to care. The meeting will bring together academic and community clinical physicians, clinical administrators, clinical directors for cellular and transplantation programs, nursing managers, clinical research directors, patient advocates, government employees, and industry stakeholders.
Learn More About the 2019 CAR T Symposium