Exploring Topics That Matter to AACI Cancer Centers
AACI Commentary is a monthly editorial series focusing on major issues of common interest to North American cancer centers. Each AACI Commentary is written by a cancer center leader or subject matter expert and distributed by email to more than 5,000 subscribers of the AACI Update newsletter.

The publication is designed to cover a specific topic in 750-1,000 words. Recommendations for topics and authors are encouraged.
---
Please submit suggestions to:
Chris Zurawsky
Director of Communications and Public Affairs
412-802-6775

Emily Stimmel
Communications and External Relations Manager
412-647-0504
---

Collaborating to Reduce Disparities in Cervical Cancer
By Deanna Kepka, PhD, MPH, and B.J. Rimel, MD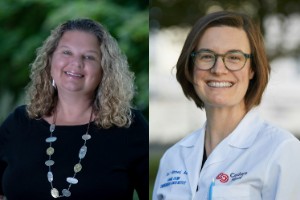 Established in 2022, the American Cancer Society National Roundtable on Cervical Cancer (ACS NRTCC) is a national coalition of members who are tackling disparities in cervical cancer prevention, screening, treatment, and survival through collective action.

The roundtable is one component of the American Cancer Society's multi-pronged approach to eliminating cervical cancer and reducing harms caused by the disease. For over 70 years, the ACS has led advocacy and education efforts related to cervical cancer and human papillomavirus (HPV), the established cause of nearly all cervical cancers.

With support from leadership at our respective cancer centers, we were nominated to represent AACI on the roundtable. At a recent NRTCC event we joined other stakeholders in a collaborative environment to discuss best practices for eliminating cervical cancer.

Read the November 2023 Commentary.