The AACI Cancer Health Equity Award was created in 2021 to recognize an individual or group who demonstrates exceptional leadership in promoting health equity, mitigating cancer disparities, and advocating for diversity and inclusion at their cancer center.

Previous AACI Cancer Health Equity Award recipients are Drs. Electra D. Paskett and Robert A. Winn.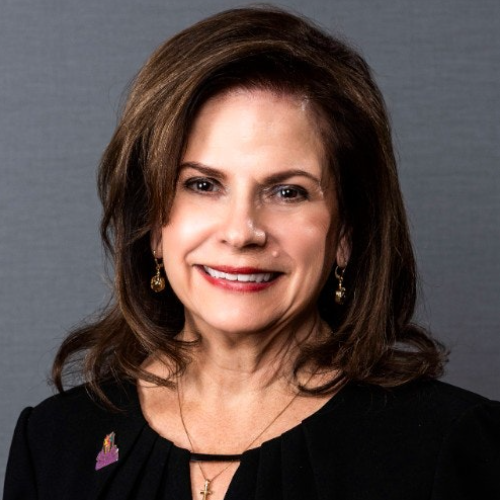 Amelie Ramirez, DrPH, MPH
Amelie Ramirez, DrPH, MPH, chair and full professor of the Department of Population Health Sciences at UT Health San Antonio, leads a multidisciplinary team of public health researchers, data scientists, and communication specialists in addressing the cancer experience of Latinos. As leader of the community outreach and engagement (COE) team at the NCI-designated Mays Cancer Center (MCC), Dr. Ramirez has implemented changes that have improved equity and diversity in cancer clinical trial recruitment and directly involved the community in outreach, clinical research, and preventive cancer care.

Under her leadership, the COE has partnered with government organizations to implement community-facing programs and campaigns and led the development of the MCC's first South Texas Cancer Survey, which uncovered the catchment area respondents' exposure to cancer information, communication preferences, knowledge about cancer risk, and behaviors to reduce cancer risk.

Dr. Ramirez has directed over 100 research programs focused on human and organizational communication to reduce cancer health disparities affecting Latinos and other minority and underserved populations, including cancer risk factors, clinical trial recruitment, patient navigation, tobacco prevention, obesity prevention, and promotion of health equity system changes. Dr. Ramirez launched the Advancing the Science of Cancer in Latinos conference and has led three national, multisite research networks. Most recently, she founded a national Latino health equity communication and advocacy network, Salud America! (SA!), at UT Health San Antonio. SA! advances health equity for Latinos by communicating culturally relevant educational content and advocacy opportunities related to the themes of Healthy Families & Schools, Healthy Communities, and Healthy & Cohesive Cultures.
---