Pictured, top to bottom: Representative Steve Womack and Senator Shelley Moore Capito. Photo credit: Ollie Mae Nicholl for UMR.

AACI prioritizes engagement with key policy issues that impact our nation's cancer centers. Throughout October, AACI Senior Government Relations Manager Jaren Love joined several meetings and advocacy events in Washington, DC.

On October 11, the Hematology/Oncology Pharmacy Association (HOPA), an AACI sustaining member, gathered representatives from 20 professional and patient advocacy organizations to discuss policy solutions for ongoing chemotherapy drug shortages.

AACI also took part in the One Voice Against Cancer (OVAC) Hill Day on October 17. Cancer research advocates brought a targeted message to congressional appropriations committee leaders and members, urging increased funding for the National Institutes of Health (NIH), the National Cancer Institute, and the Centers for Disease Control and Prevention. Their message underscored the importance of passing a Fiscal Year 2024 budget.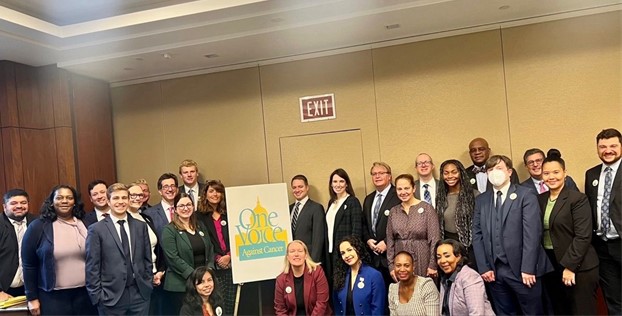 OVAC Hill Day attendees
On October 18, United for Medical Research (UMR) introduced its rural report on Capitol Hill. Love, a UMR board member, participated in the rollout of the report, which highlights how states with high rural populations benefit from robust NIH funding. The event, hosted by UMR President Chris Austin of Johns Hopkins University, included a panel discussion with patients and representatives from industry and academia. Representative Steve Womack (R-AR) and Senator Shelley Moore Capito (R-WV) also shared the impact of NIH funding in their respective states.

Love also attended the confirmation hearing of Monica Bertagnolli, MD, as the new director of the NIH on October 18. AACI issued a statement urging Dr. Bertagnolli's swift confirmation.

In addition to these activities, AACI partners with like-minded organizations and advocates on behalf of the cancer center community year-round. AACI hosts monthly Zoom meetings with government relations representatives from our member cancer centers and an annual joint Hill Day with the American Association for Cancer Research (AACR). The next AACI/AACR Hill Day is scheduled for May 16, 2024.