Nearly 500 cancer center colleagues, exhibitors, and supporters, representing 97 AACI member centers, gathered in Washington, DC, for the 2023 AACI/CCAF Annual Meeting. It was the first time since 2019 that the nation's capital was the venue for three-and-a-half days of networking, presentations, and panel discussions.

On Saturday, September 30, the day before the annual meeting, AACI hosted two events: a meeting for new cancer center directors designed to prepare them for their leadership roles, and a Diversity, Equity, and Inclusion (DEI) Summit, conducted in partnership with the American Cancer Society and the Cancer Center DEI Network. The summit drew more than 100 attendees from 50 AACI cancer centers.
AACI New Directors Meeting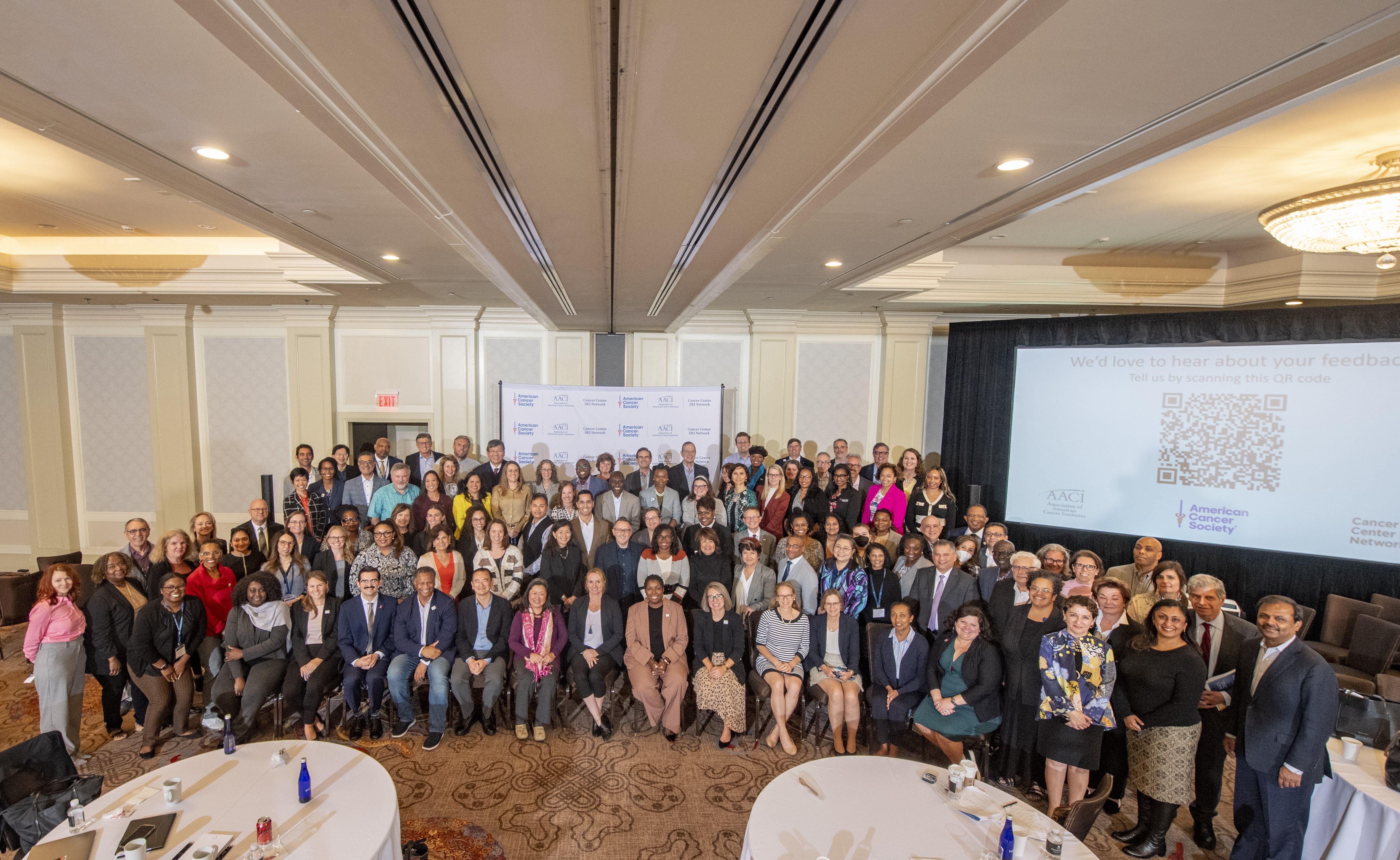 Diversity, Equity, and Inclusion Summit
On Sunday, October 1, the regular meeting opened with a keynote presentation by Dr. Philip E. Castle, director of the National Cancer Institute's (NCI) Division of Cancer Prevention (DCP). Dr. Castle provided an update on DCP initiatives, focusing on the benefits and challenges of cancer prevention; screening, including multi-cancer detection; and symptom management and care.

General sessions covered a range of issues including dismantling barriers to cancer care; enhancing diversity at AACI cancer centers; expanding global oncology programs; and research at AACI's basic science cancer centers.

One panel discussion, led by AACI President Dr. Robert A. Winn, examined the impact of the U.S. Supreme Court's recent affirmative action ruling. Panelist Kevin Williams, Esq., director of the National Institutes of Health Office of Equity, Diversity, and Inclusion, urged cancer center leaders to make sure that their DEI goals are measurable. Dr. Winn also previewed his presidential initiative, aimed at promoting inclusive excellence by examining ways that AACI members can foster partnerships with like-minded organizations, government agencies, and other institutions.

He introduced the plan with a review of AACI's history and accomplishments, noting how far the association has come in size, scope, and diversity since its founding in 1959. Dr. Winn also acknowledged the significance of his presidency, saying, "I stand here today as the first person of color to be your president."

Four AACI awards were presented at the meeting: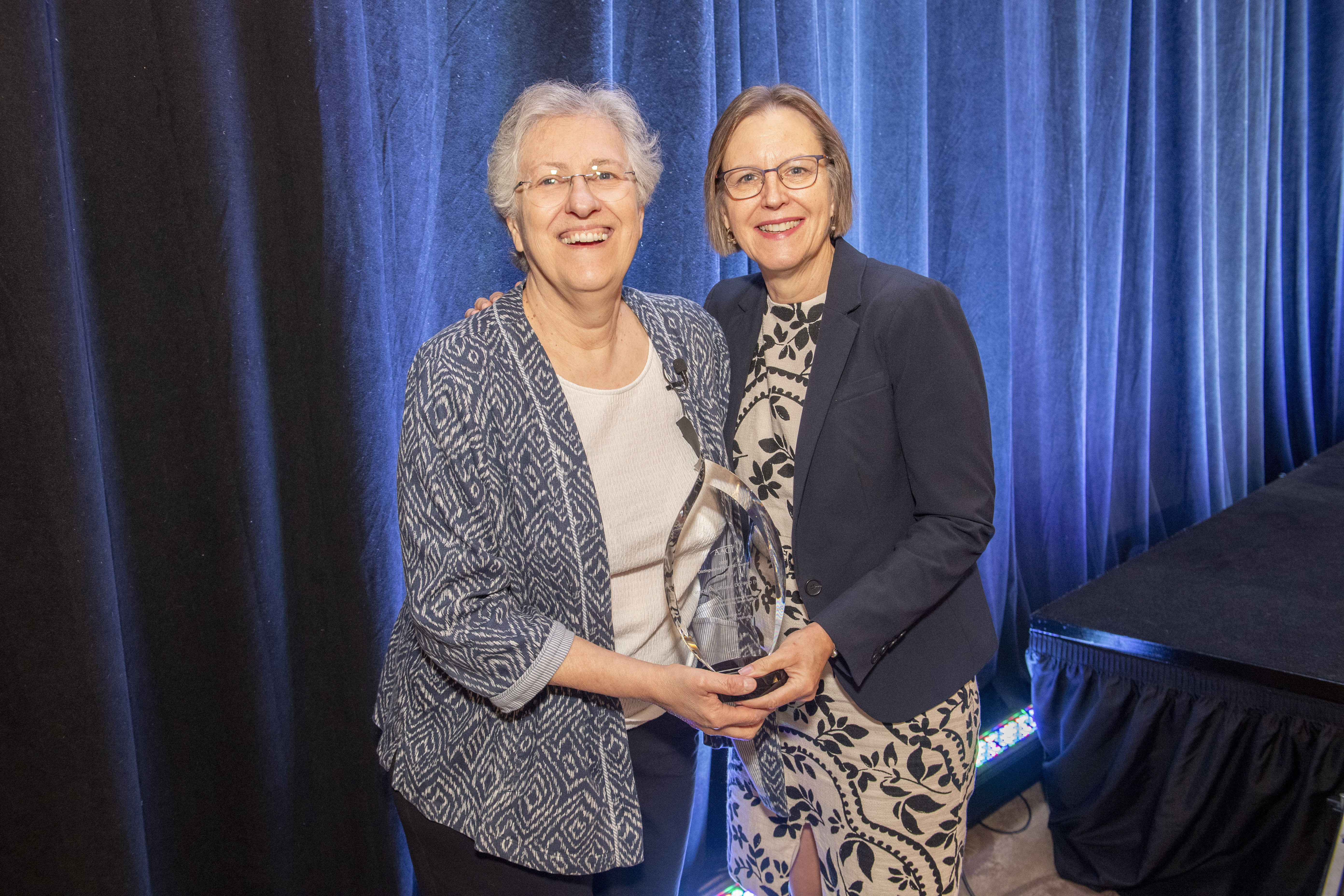 Dr. Patricia LoRusso (pictured left, with AACI Vice President/President-elect Dr. Joann B. Sweasy), leader of the Early Phase Clinical Trials Division at Yale Cancer Center and Smilow Cancer Hospital, received AACI's Distinguished Scientist Award. She presented a moving personal account of her clinical research career.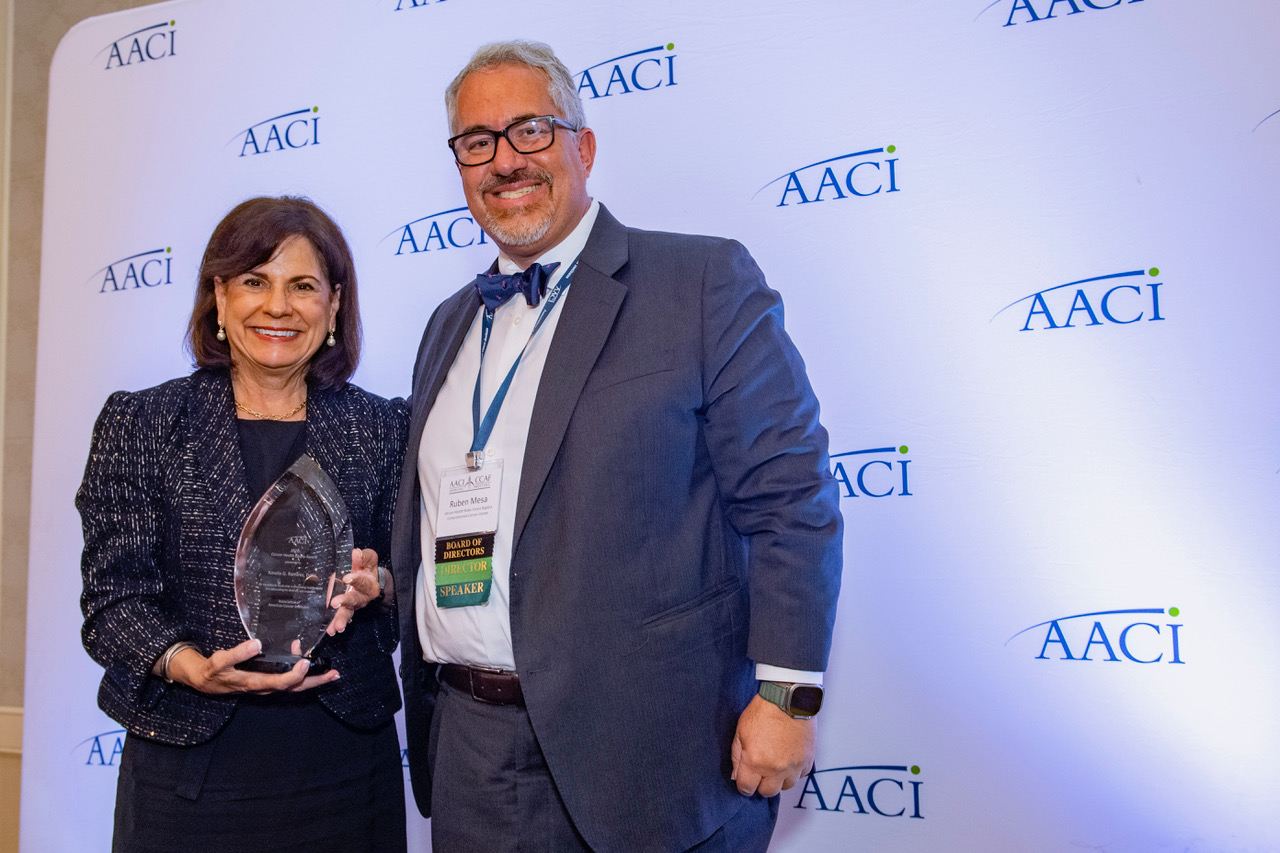 The Cancer Health Equity Award went to Dr. Amelie Ramirez (pictured right, with AACI Board of Directors member Dr. Ruben Mesa), chair of the Department of Population Health Sciences at UT Health San Antonio. As leader of the community outreach and engagement team at Mays Cancer Center, Dr. Ramirez has implemented changes that have improved equity and diversity in cancer clinical trial recruitment.
Dana D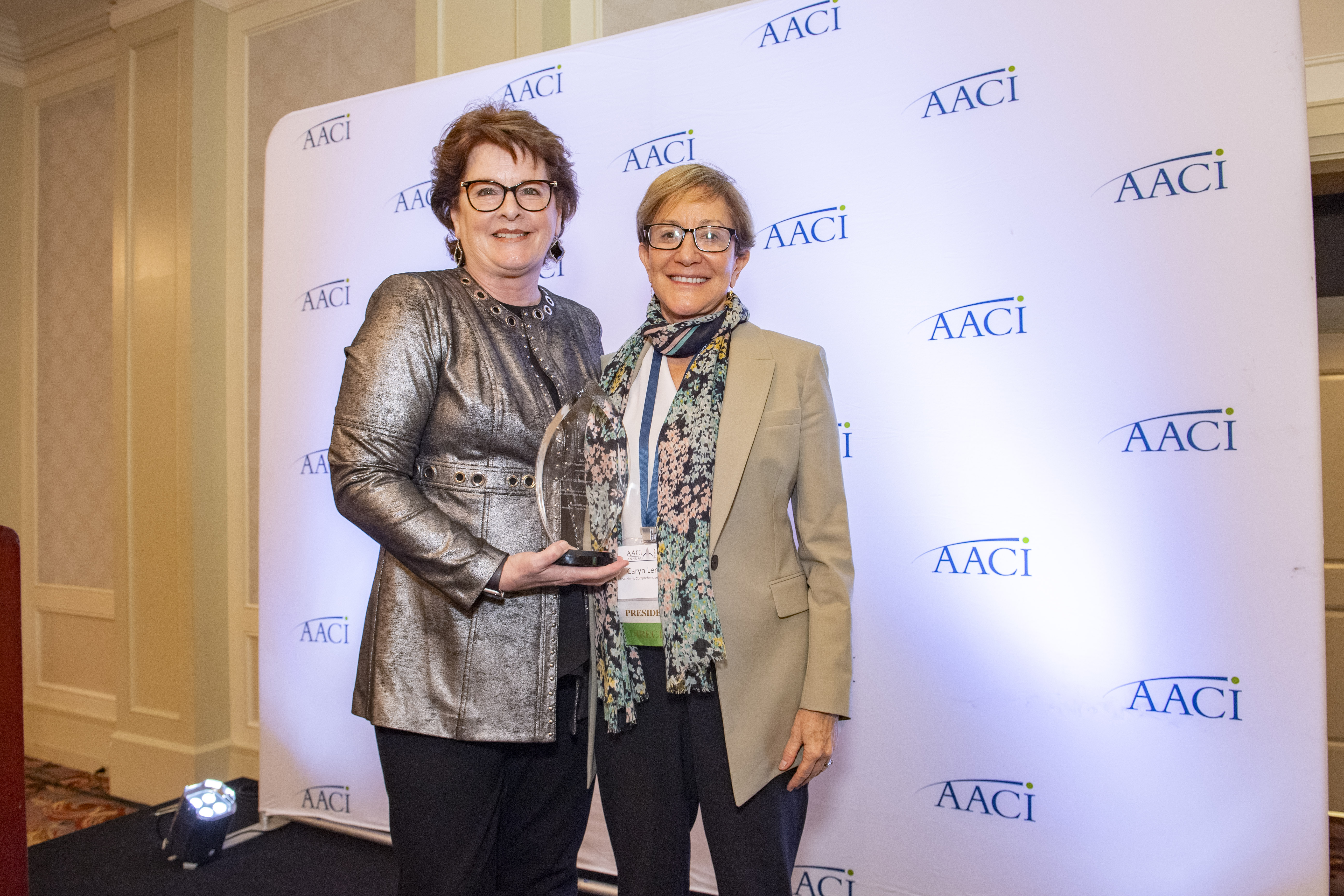 ornsife (pictured left, with AACI Immediate Past President Dr. Caryn Lerman), founder and chief mission and strategy officer of the Lazarex Cancer Foundation, was honored with the Champion for Cures Award. Her philanthropy supports community outreach and engagement efforts to increase access to cancer care and clinical trials in minority and disadvantaged communities.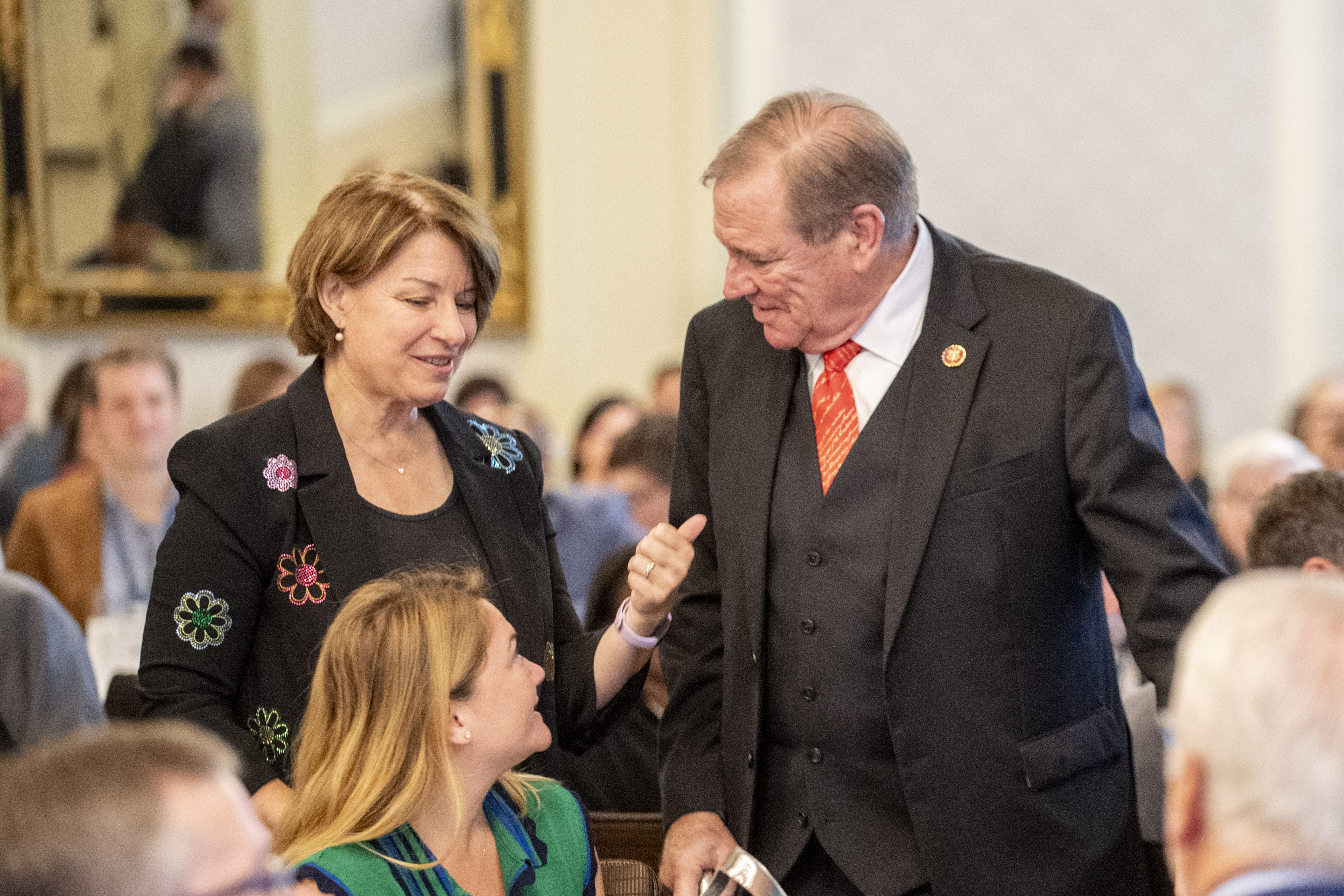 AACI's Public Service Award was presented to U.S. Senator Amy Klobuchar (D-MN) and U.S. Representative Neal Dunn (R-FL) (pictured together, right). Sen. Klobuchar assured attendees that their work does not go unrecognized by Congress. "There are people who have your backs and see you as the pinnacle of what needs to be done," she said. Rep. Dunn commented on the "unbelievable advances" in cancer treatment and reminded attendees not to hide their work from legislators.

The meeting's final day began with a presentation by Dr. Ileana Hancu, program manager for the federal Advanced Research Projects Agency for Health (ARPA-H). She reviewed the ARPA-H grant application process and highlighted the program's potential for advancing transformative technologies in cancer research and care.

A session on ways to improve cancer center interactions with elected officials and federal agencies was moderated by Erik Fatemi, a principal with Cornerstone Government Affairs. Panelist Laura Bozell urged cancer center leaders to develop long-term relationships with congressional staff since they play a vital role in gathering information and sharing it with legislators.
Dr. Suresh Ramalingam
, executive director of the Winship Cancer Institute of Emory University, moderated a session on clinical trial activation, and the meeting program concluded with the National Cancer Institute Director's Report, delivered by NCI Principal Deputy Director
Dr. Douglas R. Lowy
, on behalf of NCI Director Dr. Monica Bertagnolli. The overall theme of Dr. Lowy's talk was that, while we have enormous opportunities, in the short term the challenges are enormous too.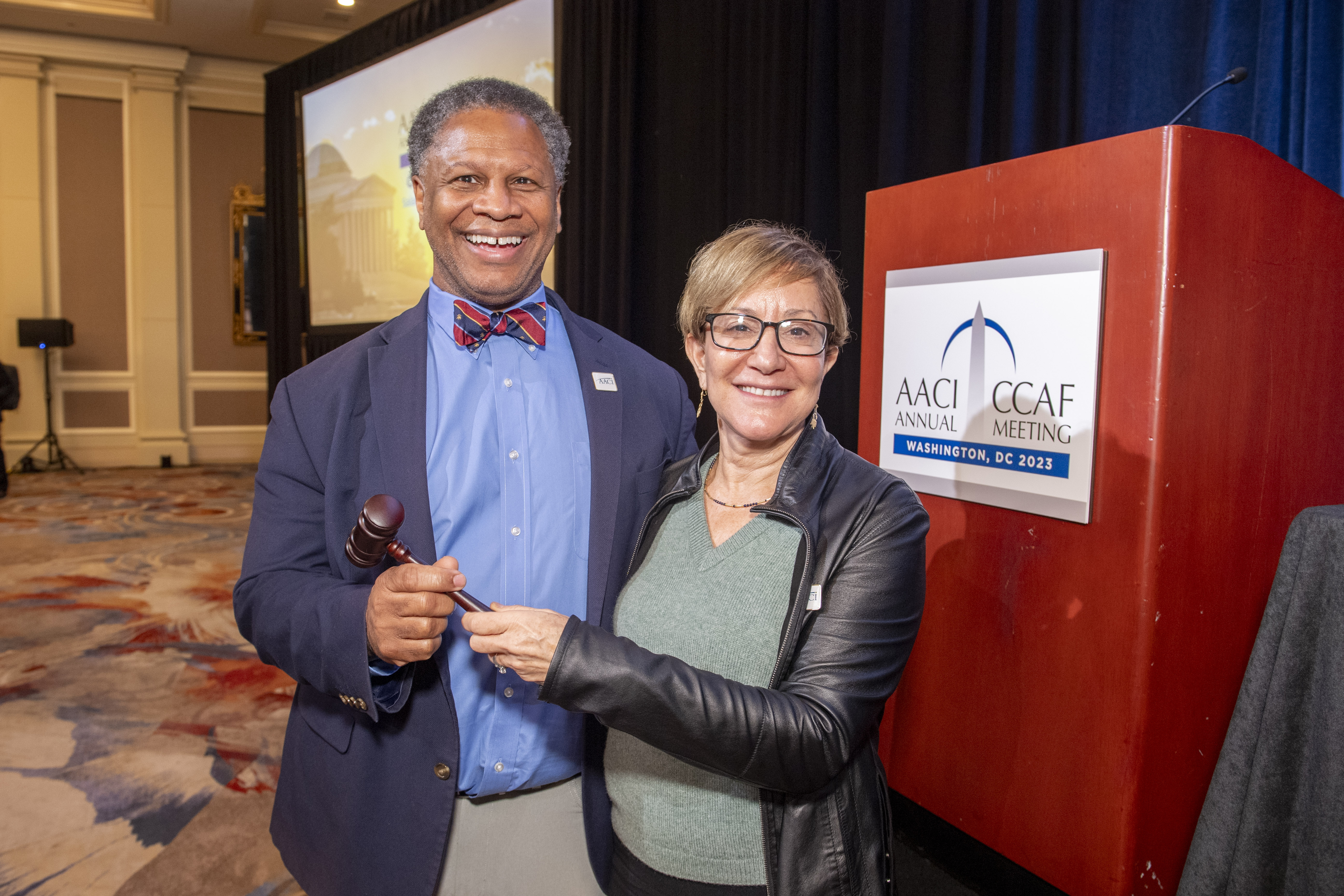 At the meeting's close,
Dr. Caryn Lerman
passed a gavel—and the AACI presidency—to Dr. Winn. In accepting the
new role
, he called on AACI members to help him achieve his ambitious goals for the association. His call to action echoed remarks from Dr. Lowy, who cited the African proverb, "If you want to walk fast, walk alone. If you want to walk far, walk together."
In a review of AACI's service to members in 2023, AACI Executive Director
Jennifer W. Pegher
acknowledged annual meeting support from
Adminformatics
;
Advarra
;
Caris Life Sciences
;
ConcertAI
;
Deep 6 AI
;
ECG Management Consultants, a Siemens Healthineers Company
;
Florence
;
Huron
;
Idea Elan
;
Inspirata
;
Integra Connect
;
Novartis
;
The Ohio State University Comprehensive Cancer Center – The James
;
Triomics
;
Varian
;
VCU Massey Comprehensive Cancer Center
;
Verily Life Sciences
;
Vitalief
;
WCG
; and
YUNU
.

Meeting recordings and slides are available on the meeting app. The 2024 AACI/CCAF Annual Meeting is set for October 20-22, 2024, at Loews Chicago Hotel in Chicago.

Photo credit: Randy Belice