Bridging Gaps Across Cancer Center Networks
Managing cancer center networks is a complex task involving many moving parts: providing care to a large patient catchment area; collaborating with other centers and community sites; working with varied employment network models; using new referral patterns; providing access to clinical trials; incorporating the use of carepaths (suggested diagnostic and treatment pathways); and monitoring quality care. Without a clear roadmap, a network can become unmanageable.

Established in 2016 as Dr. Stanton L. Gerson's presidential initiative, the Network Care Initiative allows cancer centers to improve patient care across network sites by providing standardized, evidence-based carepaths; using optimal referral patterns; and providing advanced clinical trials to patients.
Network Care Initiative Survey
In 2017, the steering committee launched a survey to gather information from AACI member cancer centers on the nature of the relationships between main cancer centers and their network sites. Crafted with the assistance of the Physician Clinical Leadership Initiative Steering Committee and the AACI Board of Directors, the survey focuses on three areas of network care:
Improving the conduct of clinical trials at network practice sites
Implementing and using carepaths to provide quality care and reduce drug costs
Determining approaches to quality assessments at the main cancer center vs. network practice sites and reporting across platforms of quality measures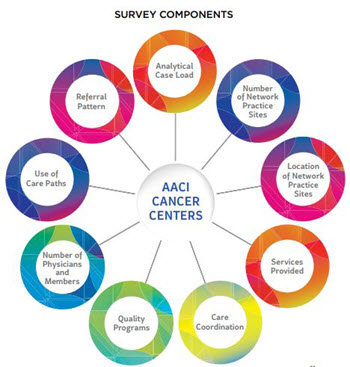 Survey data analysis was completed with a report published in the March 2021 issue of the
Journal of the National Comprehensive Cancer Network
.
Read
Status of Care at Network Sites of the Nation's Academic Cancer Centers
.